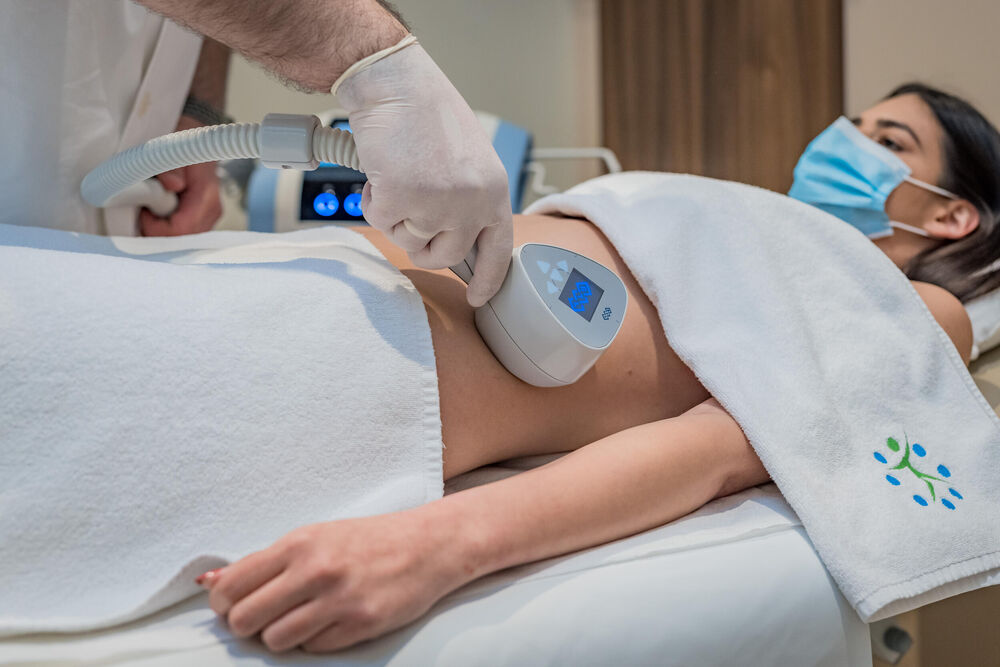 What is Exilis Elite?
The Exilis Elite is a device of the latest generation in this category which combines the ultrasound and the radiofrequency therapy so as to achieve the most efficient, safe and painless non-invasive body contouring, fat removal, and skin and face tightening. All of this is achieved by controlled warming up of the tissue.
The mechanical effects of the ultrasound paired with the high frequency energy allows access to tissues which used to be unreachable. The device precisely and specifically heats up the deeper fat layers, while the cooling on the surface of the skin regulates its temperature and protects its fine structures.
The stimulation of metabolism activities accelerates the breakdown of fat (lipolysis). The heat reaction provokes denaturation of collagen fibers and their consequential remodeling. This means that collagen fibers become shorter and firmer, which results in noticeable body skin tightening. As Some of the outcomes of the treatment are the improvement of the epidermal structure and dermal reorganization, tonus enhancement due to the induction of vasoactive processes, new collagen fibers reorganization and creation due to the increased stimulation of fibroblasts.
When is it used?
The Exilis Elite performs non-invasive facial and bodily treatments with a focus on:
Localized fat and cellulite
Circumference decrease
Subcutaneous circulation improvement
Loosening of the face, neck and skin of the cleavage
Shallow wrinkles
How is it used?
The client is placed in a comfortable, relaxed position, usually lying on the back or stomach, depending on the region which is being treated. The treatment is painless and the client feels a pleasant warmth in the treated region. After it is over, patients are able to continue with their daily activities because there are no visible traces of this procedure left on the skin. The duration of the treatment varies, depending on the number of the treated regions, with the average treatment duration of each region being around 15 minutes. It is necessary to perform 4 treatment in a series. The recommended break between the treatments is 7-14 days. Series can be repeated after a period of at least 6 months.

Fizijatrik i Estetik