The sports performance improvement programme is recommended to professional sports players and recreational players alike. Asides from its many benefits for the human body, playing sports also involves some negative effects, such as injuries of the muscular tissue. That is why it is very important to pay attention to proper preparation for any sports event.
The sports performance improvement programme includes several types of exercises, depending on individual needs and circumstances. Expert supervision from the Fizijatrik i Estetik Centre staff is here to prepare you for the sport of your choice and help you to remain active and healthy for as long as possible.
The sports performance improvement programme :
Functional training
Proprioceptive training
Agility and speed improvement training
Strength and stamina training
Aerobic exercise
Training with the Miha Bodytec machine to improve strength, balance, coordination and condition in a certain sport
Posture improvement training
Evaluation (assessment) the condition of a professional or recreational player:
A BMI (Body Mass Index) is calculated, which determines the percentage of muscle tissue, visceral fats, etc. This is followed by anthropometric measurements (height, weight, extremities' size).
After consulting with a physiotherapist, a goal is set, along with a detailed plan and programme for improving sports performance.
The sports performance improvement programme is individual and depends on the individual's degree of physical capability.
For all people that play sports recreationally, or would like to begin such activities, we offer a wide range of individual training programmes, like functional training, aerobic and anaerobic exercise, coordination improvement training, strength and body posture improvement training. Each of the listed programmes is planned in advance and organised depending on the client's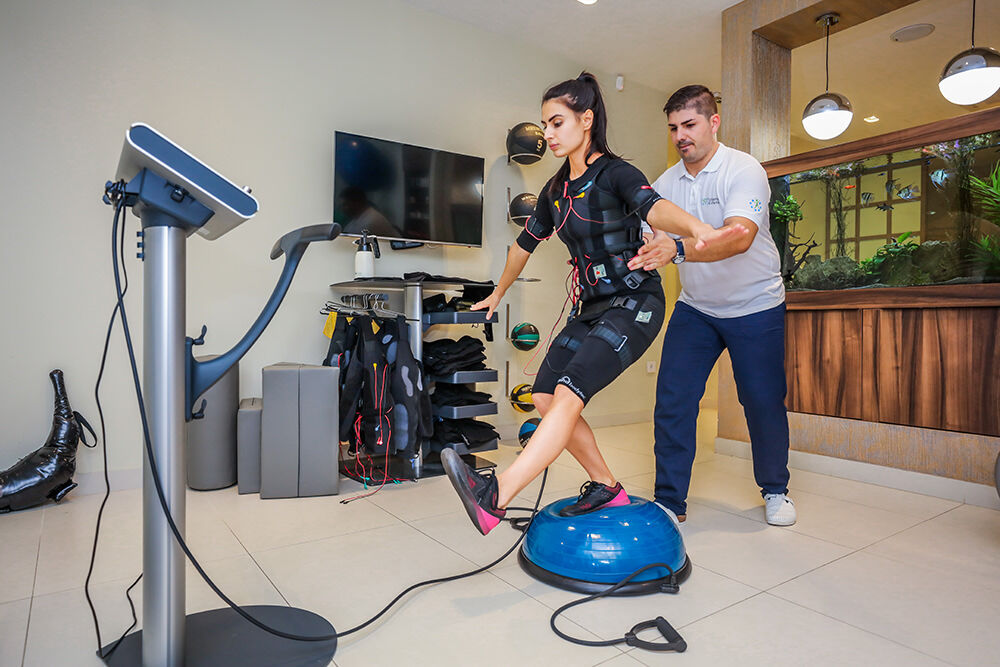 If the client is a professional sports player (professional athlete) , we conduct training with the use of state-of-the-art Miha Bodytec electrostimulation technology, which lasts for twenty minutes. We recommend this course for clients that want to strengthen their body and improve their sports results in the least amount of time possible. Miha Bodytec training is individual, based on the health condition of the client, with continual supervision and oversight from a certified Miha physiotherapist

Fizijatrik i Estetik