What is electrotherapy?
The application of electric energy for treatment purposes is called electrotherapy. For healing purposes, but also diagnostic ones, the following kinds of power is used:
1. Direct current (galvanization, iontophoresis, galvanic baths, medicinal electrophoresis), 2. Pulsating direct current (Leduc current, Bernard's (DDC) current, exponential current, modulated current), 3. Alternating current (currents of lower, middle and high frequency), 4. Electrostimulation (classic electrostimulation, TENS, FES)..
Physical therapy is a special medical discipline based on the application of physical agents or factors for purposes of treatment and rehabilitation of the hurt or the injured. The main task is the maximum reduction of psychophysical incompetencies developed after an injury or a disease, through the establishing of damaged functions or its compensation and improvement of the impaired autoregulation.
One of the most used methods of physical therapy is ELECTROTHERAPY, while in our emergency room, thanks to our modern equipment, you have more than thirty different kinds of current at your disposal, which can be applied depending on the specific needs and phases of treatment of each individual patient.
When is the electrotherapy applied?
Electrotherapy can be used independently too, but it is most often combined with other types of physical agents. It can be applied during the rehabilitation process of:
different painful conditions (cervical and lumbar syndromes)
orthopedic patients (after an injury)
neurological patients (muscle weaknesses, paralysis…)
degenerative changes in various joints
circulation disorders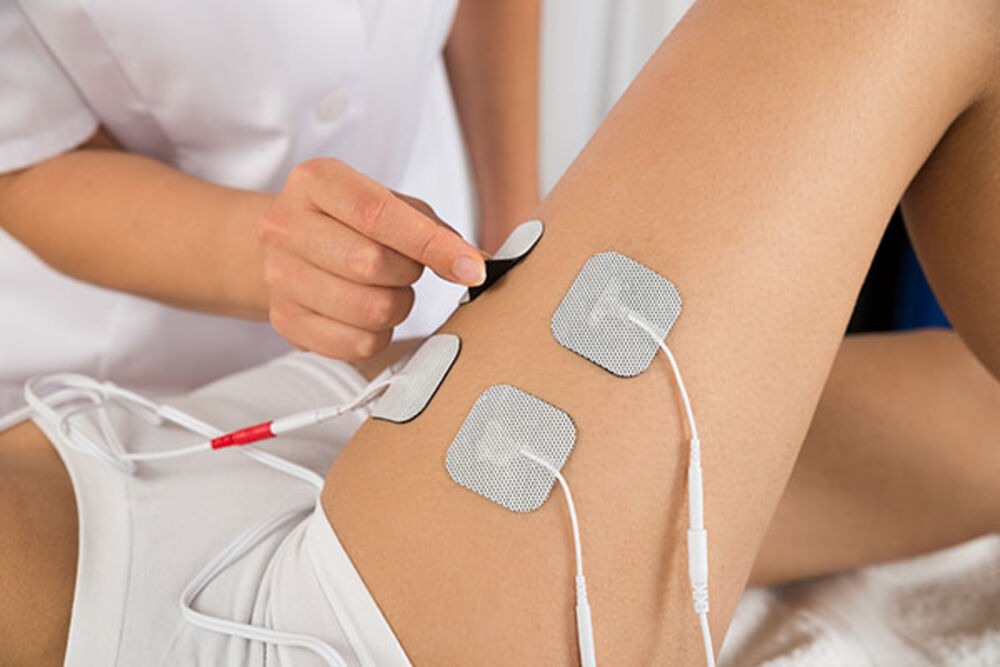 How is the electrotherapy used?
The patient is placed in a comfortable, relaxed position. The treatment application alone is given locally. Electrodes are administered to the place of pain or to the place where there is an issue to be attended to, in a way specific to different kinds of currents. The therapy should be painless, pleasant, and the patient can sometimes feel a slight numbness, tingling, or contractions, all of which are explained in detail by an assigned physical therapist, controlling all the parameters, as well as the subjective feeling of the patient. The duration of the therapy varies, most often from ten to thirty minutes.

Fizijatrik i Estetik